CAHPS for ACOs Survey
Accountable Care Organizations (ACOs) are held accountable for the quality of care they provide to patients. Pioneer ACOs, Next Generation ACOs, and those participating in the Medicare Shared Savings Program have agreed on a survey instrument that evaluates the aspects of care patients value most. Professional Research Consultants, Inc. (PRC) is proud to be numbered among the first survey vendors approved in 2013 to conduct the Consumer Assessment of Healthcare Providers and Systems (CAHPS) survey for ACOs.
Why choose PRC?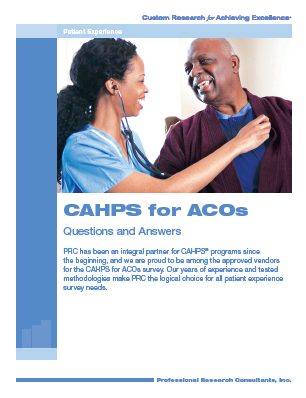 Click image to open CAHPS for ACOs brochure.
An emphasis on quality, service, collaboration, innovation, and growth has driven PRC's success with a wide variety of custom survey tools and those prescribed by the Centers for Medicare and Medicaid Services (CMS). The experience that PRC has gained from administering the CAHPS for ACOs has been highly valuable as partnerships with ACOs have blossomed. Download the brochure.
How is the government involved in this survey?
According to the CMS, Accountable Care Organizations are groups of doctors, hospitals, and other healthcare providers, who come together voluntarily to give coordinated high-quality care for their Medicare patients. The goal of coordinated care is to ensure that patients, especially the chronically ill, get the right care at the right time, while avoiding unnecessary duplication of services and preventing medical errors. When an ACO delivers both high-quality care and spends health care dollars more wisely, it shares in the savings it achieves for the Medicare program.
The Pioneer ACO model developed around the experienced primary care physicians dedicated to coordinating the high-quality care of Medicare beneficiaries at a low cost. This select group of ACOs served as a trial group that tested each step of the reporting process before the remaining eligible ACOs came on board. The trial group had its first exposure to the CAHPS survey in 2012, when the RAND Corporation managed data collection.
ACOs in the Medicare Shared Savings program are comprised of healthcare providers who are invested in coordinating their efforts with Medicare's objective to improve the quality of care for its fee-for-service beneficiaries. These ACOs used the CAHPS for ACOs Survey with the RAND Corporation in 2013 and began partnering with CMS-approved survey vendors in 2014.
CMS introduced Next Generation ACOs into the program for the first time in 2016. These organizations are set apart by their experience in care coordination and the fresh opportunity for greater financial risk and reward. ACOs that welcome this challenge and accountability may apply on an annual basis.
How does this process work?
After ACOs submit their survey vendor authorization forms, CMS sends PRC a file containing 860 beneficiary records per ACO. These beneficiaries are randomly selected and assigned to an ACO based on the plurality of patient claims within the sampling period.
All vendors must conduct the CAHPS for ACOs Survey using CMS' prescribed mix of mail and telephone methodologies. See the following 2016 survey administration timeline, which outlines the key events of the survey process:
| Activity | Date |
| --- | --- |
| Vendor Authorization Form Due | 09/20/16 |
| Pre-Notification Letters Mailed | 11/10/16 |
| First Questionnaires Mailed | 11/18/16 |
| Second Questionnaires Mailed | 12/13/16 |
| Telephone Interviews Begin | 01/04/17 |
| ALL Data Collection Ends | 02/01/17 |
| Data Submitted to CMS | 02/09/17 |
The CAHPS for ACOs survey is designed to assess the whole medical group, but it can serve as a report card for long-term goals with PRC's award-winning interactive reporting tool, PRCEasyView.com®, to display the results. PRC is eager to assist ACOs and medical groups design research plans that evaluate individual providers on a continual basis.
What does CAHPS for ACOs measure?
The CAHPS for ACOs Survey contains seven summary measures that CMS uses to determine reimbursements. These seven clusters of questions form a mandatory base. Then, the two questions that make up the Courteous and Helpful Office Staff measure are required in any survey that uses the Clinician and Group CAHPS (CG-CAHPS) core. ACOs have the choice of supplementing the required nine dimensions with three more. These are not tied to ACO's Quality Score, but can still be used for process improvement.
| Summary Survey Measure | Number of Questions | Used in Quality Score? | Required/Optional |
| --- | --- | --- | --- |
| Getting Timely Care, Appointments and Information | 5 | Yes | Required |
| How Well Providers Communicate | 6 | Yes | Required |
| Patient's Rating of Provider | 1 | Yes | Required |
| Access to Specialists | 2 | Yes | Required |
| Health Promotion and Education | 6 | Yes | Required |
| Shared Decision Making | 8 | Yes | Required |
| Health Status/Functional Status | 8 | Yes | Required |
| Courteous and Helpful Office Staff | 2 | No | Required |
| Care Coordination | 3 | No | Optional* |
| Between Visit Communication | 1 | No | Optional* |
| Helping You to Take Medications as Directed | 3 | No | Optional* |
| Stewardship of Patient Resources | 1 | Yes | Required |
| | | | *Either all optional measures must be added or none of them. |
What's next?
ACOs with active status as of January 1, 2016 will be required to participate in the 2016 measurement of CAHPS for ACOs. These groups are responsible for selecting a vendor by the end of the summer. See the CMS CAHPS for ACOs website for more details as the timeframe approaches.
If you are interested in a more robust evaluation of the clinicians within the ACO, please contact us for more information about customizing the CG-CAHPS tool to fit your needs.